The Top 20 Multifamily Property Management Companies of 2020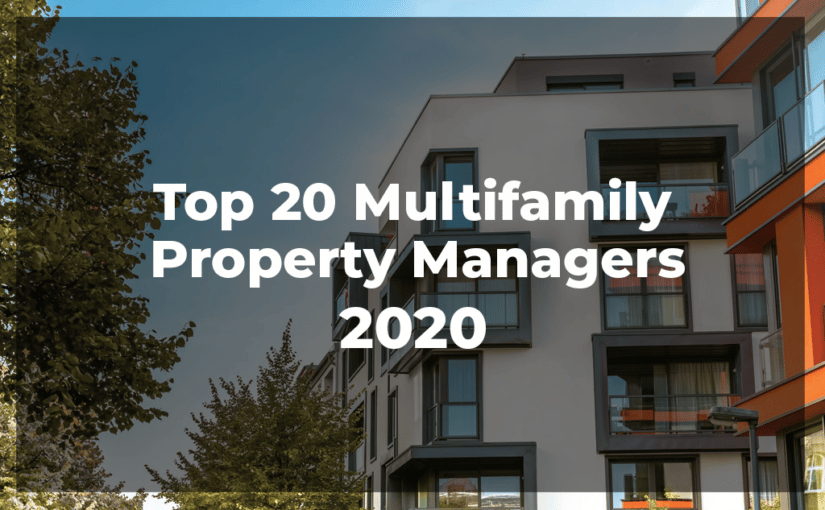 Standing out in the crowd is not that easy when you are in the large apartment management sector. However, it helps to offer some of the best units in your marketable area. Whether you are focused on sustainability or student housing, you want to give your residents the best customer service experience.  Here to help you find out what that is, check out the top 20 Largest Apartment Managers list for 2020 by the National Multifamily Housing Council. The NMHC reports on how many units are managed and other key data regarding these top management firms. Learn more about these companies to see what is the best solution for your multifamily investment.
1. Greystar Real Estate Partners
Greystar Real Estate Partners handled over 492,000 units in 2020 making it the leader in the list of NMHC 50 Largest Apartment Managers in the US. The company is unique in that it focuses on property development and investments rather than just property management. There are more than 30 offices with over 12,000 employees in the Greystar Real Estate Partners umbrella globally.
2. Lincoln Property Company
Led by corporate officer Tim Byrne, Lincoln Property Company is headquartered in Dallas, Texas. Offering up the second largest multifamily property management firm, this company managed 203,342 rental properties in 2020, up from 191,669 the previous year. With a focus on military housing, the company had nearly 37,000 units in that niche alone. This firm was also listed on the Top Owner 2020 and Top Developer 2020 listings.
3. Pinnacle
Pinnacle is third on the National Multifamily Housing Council's list of the 50 Largest Apartment Managers for 2020. With slightly over 169,000 units managed this year, the company has a diverse offering. There were 5,000 student housing units coupled with 7,200 senior housing units provided by the firm. Rick L. Graf is the corporate officer for Pinnacle.
4. Alliance Residential
Bruce Ward and V. Jay Hiemenz are co-officers in charge at Alliance Residential. This company provides services for most of the US except for the Central-Midwest region of a dozen states. There is a fair share of student housing units in this breakdown with more than 1,800 on the market for 2020.
5. FPI Management, Inc.
While not present in the extreme New England region and the Southeast, FPI Management, Inc. serves the rest of the nation well. A staunch provider in apartment management listings, the diverse offerings have increased from approximately 40,000 units in 2007 to more than 122,000 units in 2020.
6. WinnCompanies
Gilbert Winn with WinnCompanies ranks sixth on the list of firms managing large apartments in the US. Based in Boston, MA, the company has 105,214 units in its portfolio as active for 2020. The firm has a lot of military housing at a rate of nearly 40 percent of the total units managed for the year. The company serves all of the US except for the Central-Midwestern states.
7. MAA
MAA managed by corporate officer H. Eric Bolton, Jr. was listed on the Top Owner 2020 award, as well as among the largest apartment managers. The regions served by MAA are everywhere but in the New England and West Coast markets. With over 100,000 property units managed in 2020, the company has achieved quite the growth since 1999 when the firm tracked approximately 40,000 units.
8. Apartment Management Consultants, LLC
At Apartment Management Consultants, LLC, the #8 spot on the list, Brenda Barrett is at the helm. As a corporate officer, Barrett is assisting the group in growth at a staggering speed. Since tracking started in 2012 for Apartment Management Consultants, LLC the company has grown from about 60,000 units to more than 90,000 units. Senior housing units are a larger percentage of this with 3,429 units listed by the company.
9. BH Management, LLC
Harry Bookey heads up BH Management, LLC out of Des Moines, Iowa. The company operates apartment units in most states. However, the West Coast, Alaska, Hawaii, and New England have been omitted from the coverage area. Senior housing is a hot commodity for the firm, which has grown from 20,000 units to a steady climb of 92,747 in BH Management, LLC.
10. Equity Residential
At Equity Residential, Mark J. Parrell is the corporate officer of a company that has gone on an interesting path. Rather than steadily growing, the large apartment management firm escalated up in the early 2000s to 200,000 units. Then from there the company steadily declined in its units. However, that has not moved the management company from being a top contender in the market. Equity Residential was also listed on the Top Owner 2020 list. This is even after covering only half of the nation with units available in the Western US and East Coast states.
11. AvalonBay Communities, Inc.
AvalonBay Communities, Inc. is a company that has provided steady growth over the years. Headquartered in Arlington, Virginia, the company is led by Timothy J. Naughton. Since 1998 they have started with the meager 15,000 active units to over 78,000 in 2020. This has also placed AvalonBay Communities, Inc. on the Top Owner 2020 and Top Developer 2020 lists for the year.
12. Morgan Properties
Mitchell L. Morgan of Morgan Properties covers large apartment management for the Eastern US not including the New England states. Hawaii and Alaska are also out of the service zone for operations. However, even with this market size Morgan Properties based in the King of Prussia, Pennsylvania has provided 76,831 property units for 2020 alone.
13. Bozzuto
Bozzuto named after its corporate owner Toby Bozzuto is a large management firm headquartered in Greenbelt, MD. The company handles rental apartments in the Midwest and Eastern US. This is with the exception of several Southern states including Texas and Alabama. Since 2010 the company has grown with a slight incline. There were 25,000 units in 2010 and 50,000 in 2016 followed by more than 75,000 units in 2020.
14. Asset Living
A leader in student housing units throughout the US, Asset Living provides services in 40 states including Hawaii and Alaska. Here you have Ryan McGrath serving as CO for more than 35 years of service. Over 320 properties and more than 3,000 employees work for Asset Living. The company also has 120 campuses and 65,000-plus units along with 140,000+ beds for residential student housing. That is quite the service area putting Asset Living at #14 on this list by the NMHC.
15. Avenue5 Residential, LLC
Avenue5 Residential, LLC is a company that is one of the newer and shorter-lived firms on this listing. Data reported for the company is only for 2017 to the present-day. However, in that time CO Walt Smith has provided leadership for 67,858 units in 2020. That is up from 55,289 units in the previous year. The company specializes in multifamily property management including rental apartment housing throughout the US.
16. Edward Rose Building Enterprise
A long-standing company in the large apartment management sector, Edward Rose Building Enterprise has been monitored since 1990. Then the company had approximately 35,000 units on the market. Ever since that start, Edward Rose Building Enterprise has grown or remained steady annually. Today the company reports 65,600 units with 882 senior housing units on the markets in most states. The coverage area includes the far West Coast and Central-Midwest including the Southeast. The Northeastern US is not part of the regions of operation.
17. Related Companies
Related Companies serves as a major brand in luxury rentals and luxury condominiums. These units are marketed for retail, office, city centers, and the hospitality sectors. The company, ranked as #17 on the NMHC 50 Largest Apartment Managers, is run by Jeff Blau. Also featured on the Top Owner 2020, the company has more than 64,000 units on the market for 2020.
18. The Irvine Company
The Irvine Company has been operating for more than 150 years in the City of Irvine and in Newport Coast in California. The company has an outstanding reputation in customer service for apartment homes, office communities, resorts, hotels, golf courses, marinas, and more. This includes new home villages, as well as units in the retail, dining, and entertainment sectors. While ranking at #18 with just shy of 62,000 units on the market, Jim Krohn's company continues to dominate while only covering Washington, Oregon, California, Alaska, and Hawaii.
19. Hunt/Envolve Communities (formerly LEDIC Realty Associates)
Hunt Companies are based in El Paso, Texas and have been in business since 1947. However, the historical data is only representative since 2015. The company reported a huge climb from about 52,000 units in 2016 to nearly 70,000 units in 2017. Since that time Hunt Companies has steadily declined its ownership of units to the current total of 61,673 units. This includes a substantial number of military housing units at 32,835 units.
20. Essex Property Trust, Inc.
Essex Property Trust, Inc. is another West Coast company that is only present in Washington, Oregon, California, Alaska, and Hawaii. Michael J. Schall is the corporate officer of the company. Sustainable living and LEED-certified properties, as well as smart homes outfitted with the latest technology, are part of the Essex portfolio. While coming in at #20 on this list, the large apartment management firm has plenty to offer.
When investing in multifamily commercial rental properties, it is vital to have partners that you can trust to not only maintain the property, but can secure the best financing options available to you. At CommLoan, that is exactly what our platform strives to achieve. With hundreds of lenders on board and thousands of loan programs, leverage CommLoan to help you find the best deal. Get a Free Multifamily loan quote today.