Bob Tunis Visits CommLoan, extends welcome from the City of Scottsdale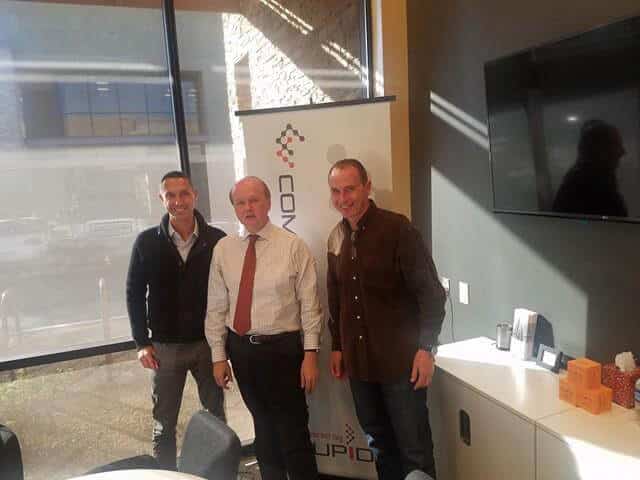 Robert (Bob) Tunis, Economic Development Manager for the City of Scottsdale, visited CommLoan recently to extend a formal welcome from the City of Scottsdale.
During his meeting with CommLoan's leaders, CEO Mitch Ginsberg and CFO/COO Alan Schnaid,  Mr. Tunis discussed  upcoming initiatives that the City of Scottsdale is currently focused on and provided a historical perspective on the city's development and growth.    Scottsdale continues to be among the fastest growing markets in the country, promoting growth of local companies and attracting business from other areas to relocate here.
"The brand of Scottsdale is great for business and it was comforting to see that the city's leaders strongly believe in perpetuating that strength,"  CommLoan's CEO Mitch Ginsberg, said in the meeting.   "We know that attracting top talent is always challenging and with our aggressive growth plan and the support of the city of Scottsdale, we are going to be able to meet our goals."
In his official "wish" for Scottsdale in 2017 Mayor Jim Lane told the Arizona Republic that his wish would be the continued enhancement and revitalization of our downtown with private/public partnerships that live up to the city's strategic plan. This growth must be thoughtfully cultivated so that Scottsdale can continue to be the best city in America.
CommLoan's growth plans include adding more team members and further expanding in the city of Scottsdale.
CommLoan is focused bringing efficiency to the commercial Real Estate lending space.  CommLoan's  revolutionary technology delivers best of both worlds: unprecedented access to the capital markets and personalized, concierge service.   To learn more, visit www.commloan.com