INNOVATION BEGINS WITH ONE SIMPLE IDEA
WE BELIEVE ANYTHING IS POSSIBLE
From finance to architecture, investments to IT development, our varied backgrounds blend together to build one vision.
Mitch Ginsberg
Co-Founder & CEO
Mitch spends as much time as possible getting out on his mountain bike and tearing up the dirt. That aside, he has managed to gain over 25 years experience in finance and accounting, and one of his many achievements includes building and growing a mortgage bank with branches in multiple states. Now, he is determined to shake things up in the commercial mortgage industry. Mitch will tell you that in taking the cutting edge technology of the CommLoan platform (CUPID), and combining it with good old-fashioned customer service, anything is possible.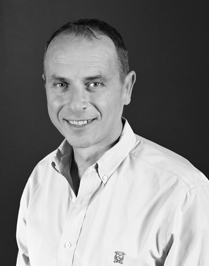 Marc Mirbod
Co-Founder & Chairman
Marc's career spans 34 years in real estate development and management. In the course of his career he has been the lender as well as the borrower on multiple real estate transactions, giving him a unique perspective into this space. Marc's day begins at the crack of dawn with a tough workout at the gym, and he is not one to accept the status quo. Marc knows there is a better way to do things in commercial lending, and that CommLoan is well overdue.
Art Carll-Tangora
COO
Art Tangora brings more than 28 years of principal, managerial and transactional experience to his role as Chief Operating Officer for CommLoan. Prior to joining CommLoan, Art was involved in over $3 Billion dollars in commercial RE transactions and loan activity. Art transitioned to the role of Sr. Partner at NAI Vegas, from NAI Global's Special Asset Team where he served as a Sr. Vice President. While serving in his role at NAI Vegas, he was recognized several times as a top producer and forged long term relationships with the majority of his clients.

Art's long-standing alliances with a variety of lenders including regional banks, special servicers and CMBS lenders, brings unique knowledge and experience that enhances CommLoan's ability to better satisfy client needs.

Art is a golf enthusiast and a sports enthusiast, especially when it comes to the Florida Gators. Otherwise, he simply enjoys his work, serving client needs and making new relationships.
Peeyush Dayal
CTO
Peeyush relishes off the beaten path getaways with his family. His inherent curiosity and desire to explore has also kept him on the cutting edge of web and systems development. Over the past 17 years he has worked with fortune 500 companies as well as smaller startups, and has established a clear roadmap for growth. Peeyush, along with his team of designers and developers, provide the technical knowledge and experience needed to forge the path for CommLoan.
Stacie McDaniel
EVP
Stacie McDaniel brings more than 10 years of creative lending, credit underwriting, managerial, and contract negotiation to her role as Executive Vice President for CommLoan. Prior to joining CommLoan in 2015, Stacie divided her time at Chase Bank leading a team of business bankers and overseeing a portfolio of key bank clients. Her focus was coaching, developing, training, and recruiting key individuals to drive in new business, grow & deepen existing relationships, and credit underwriting diverse types of business industries, markets, financial, and economic concepts.
Stacie's prior real estate and banking career enhanced her role for developing the CommLoan's credit placement model and developing and growing lender relations throughout the country. Stacie works diligently with the executive team to help develop, manage, and grow this national marketplace.
Stacie stays busy with her 2 young children and husband managing their weekend excursions, school, and exploring new places in Arizona.
Alan Schnaid
Director & Advisor
Alan Schnaid is a Director and Advisor for CommLoan. Alan is currently Executive Vice President of PetSmart, the largest specialty pet retailer of services and solutions for the lifetime needs of pets. Prior to joining PetSmart, Alan was CFO at Starwood Hotels & Resorts Worldwide, Inc., one of the largest hotel and leisure companies in the world. Alan worked at Starwood for 22 years in varying financial roles. Alan's earlier career included accounting positions with Mazars and Company, Kenneth Leventhal and Company and Laventhol & Horwath. Alan is a member of the AICPA and earned his Bachelor of Science in Accounting from California State University, Northridge.